The Truth Behind Macbook Pro Retina LCD Replacements
Macbook Pro Retina LCD replacement. One of the Mac repair many Mac owners would not want to do. Such a replacement may be needed due to a cracked LCD caused usually by accidental drops. The repair is expensive. What is worse still is that there are varying prices and options presented by different Mac repairers. Repairs can range from $400 to $1000, depending on the quality of the LCD, the skills of the technician replacing your screen, whether you get the LCD replacement from independent repairers or with Apple Authorised Service Providers, and whether the LCD is an an OEM part, or original Apple part.
In this article, we will show you the different kinds of LCD replacements available and how to decide which kind to go for if your Macbook Pro Retina LCD is spoilt. Let us first understand the construction of a Macbook Pro Retina LCD assembly. These kinds of LCD assembly are used in the Macbook Pro Retina 13″ and 15″ from 2012 – 2016, as well as the Macbook 12″ with Retina display.
There are 3 kinds of LCD replacements in the market – 1. OEM inner LCD replacement, 2.OEM LCD assembly replacement, and 3.original LCD assembly replacement . The image below shows the construction of the Macbook Pro Retina LCD. The Macbook Pro LCD assembly actually consists of 3 separate components – the Macbook Pro top aluminium cover, a backlight and a LCD panel. See the picture below.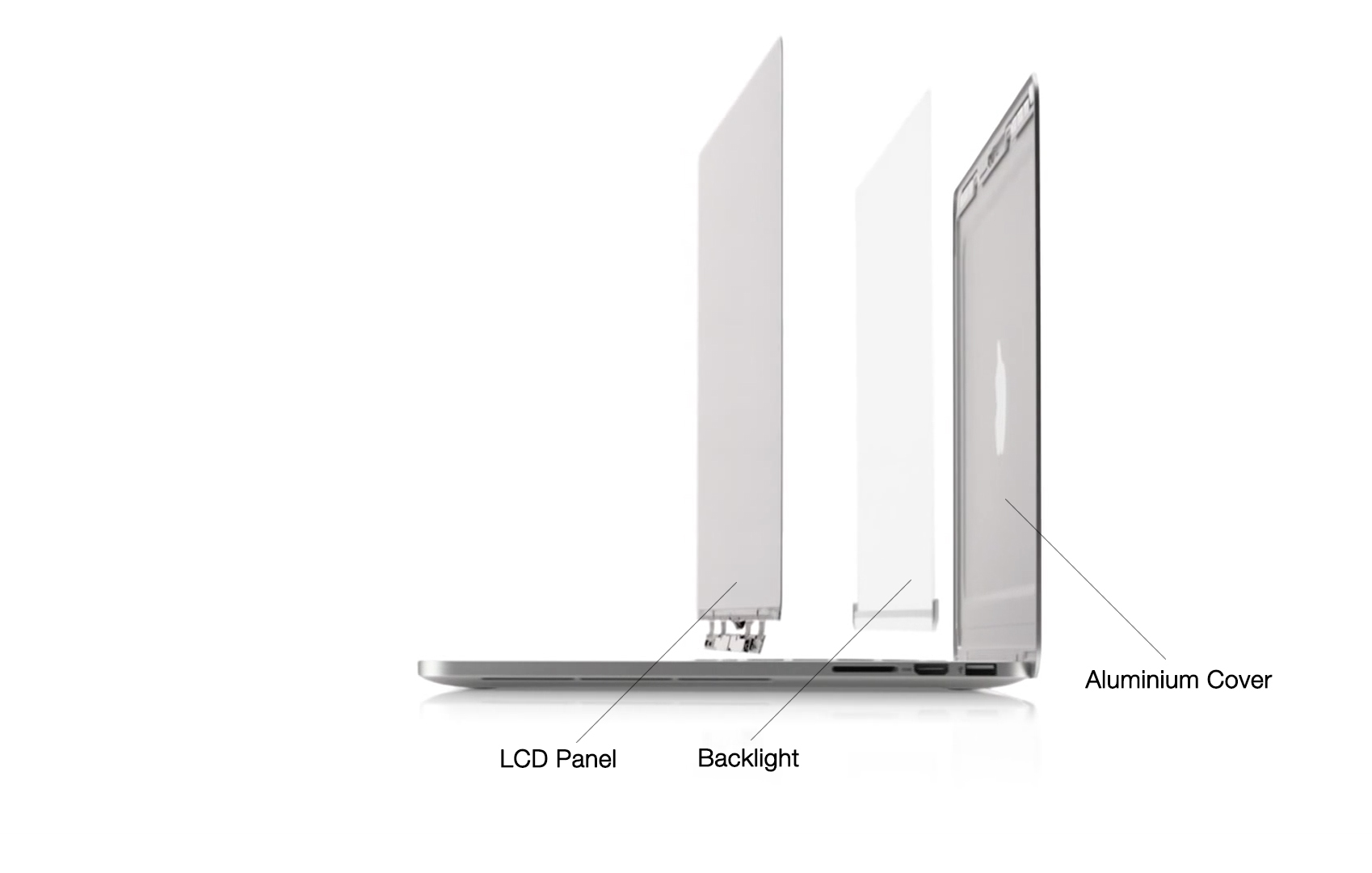 1. OEM inner LCD replacement

In a situation where the LCD is not badly cracked, an OEM inner LCD replacement can be done. In this kind of repair, only the outer LCD panel is changed. The cracked LCD panel heated and loosened from the strong LCD sticky tape that adheres the LCD panel to the aluminium cover. A replacement LCD is then glued and assembled back. No matter what your repair shop says, such repairs will always use OEM LCD screens manufactured by third parties. Some of these third parties may be companies manufacturing for Apple, but they are strictly considered non-original, though the resolution is the same as the original and the colour reproduction is quite similar. Such a repair requires an experienced technician with fine micro-motor skills, as any puncture of the backlight by the cracked glass shards of the LCD might result in imperfections to the finished replacement. Any puncture of the backlight will be exhibited as white light streaks when the LCD is turned on.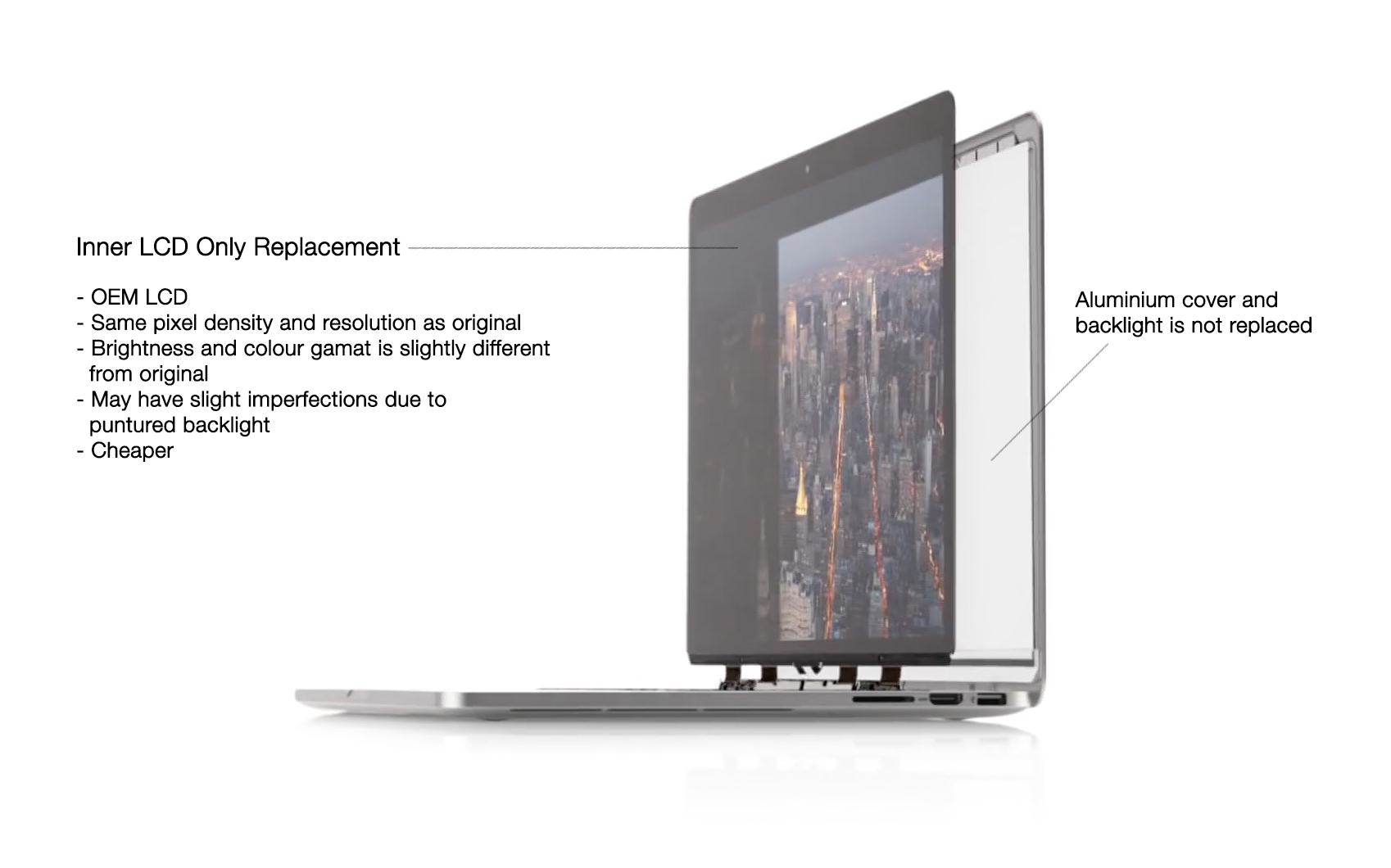 Pros:
Cheapest type of repair
Same resolution as an original Apple Retina display
Cons:
When the backlight is not adjusted well, there might be visible slight light leak at the corners of the LCD
Colour gamut is not as wide as the original LCD
Might have brightness variation from the original
Not suitable for severely cracked LCDs
2. OEM LCD assembly replacement
These kind of LCD assembly replacements comes with an OEM LCD panel pre-assembled onto the aluminium covers. The covers are usually sourced from Macs with spoilt LCD panels. The LCD panels are removed from the old Macbook Po Retina LCD assemblies, and are replaced with new OEM LCDs.
It is suitable for customers who want to have new aluminium covers as their Mac has very badly dented and unsightly aluminium covers, or that their Macs have very badly cracked or shattered LCDs. The prices are higher than OEM inner LCD replacements, and depending on where the repairer sources their parts from, such parts also might suffer the same issues as inner LCD replacements, namely colour and brightness variation as well as light leak issues. We have observed that some of these LCDs have light leak from the Facetime cameras, resulting in purple tinges in the photos or videos being taken with the Facetime cameras. Some unethical repair shops pose off such reassembled LCD assemblies as original Apple LCD assemblies to earn higher margins.
Pros:
Mint condition aluminium covers
Same resolution as an original Apple Retina display
Cons
When the backlight is not adjusted well, there might be visible slight light leak at the corners of the LCD
Colour gamut is not as wide as the original LCD
Might have brightness variation from the original
Light leak from Facetime cameras resulting in purple tinge in videos and images
Unethical repair shops pose off such reassembled LCD assemblies as original Apple LCD assemblies
3. Original Apple LCD assembly replacement
These are the best type of replacements. Original Apple LCD assembly replacements are new, untampered with, and has the exact colour gamut , brightness and resolution of the Retina LCDs that comes with Macbook Pro Retina that are sold in Apple stores. These assemblies are from Apple's factories and have protective films on the front and back of the LCD assembly.
Notice that such assemblies comes with serial numbers, barcodes, quality control stickers (Gamma PASS), and protective plastic coverings for the LCD cable. They also come with new rubber pads that adheres to the inner LCD hinge.
There are also some original Macbook Pro Retina LCD assemblies that do not come with such stickers. LCD assemblies that do not come with serial number stickers might also be original Apple parts, except that they are procured from different sources which we are not at liberty to reveal.
Pros:
Original resolution, colour gamut and brightness
Your dented aluminium cover is replaced with a new one
Perfect rubber trim
Usually does not have purple fringe issues
Cons:
So how do can we tell if the LCD panel replaced by a Mac repairer is original or not? There are 3 ways you can tell if the LCD assembly a shop offers you is original. The price, whether there are serial number stickers and protective plastic caps for the LCD and WiFi cables, the brightness adjustment and automatic brightness sensors.
1. Price
Price is not the most accurate indicator, but a low price definitely means the LCD replacement is a re-assembled part, even if they replace the entire aluminium cover. Original Macbook Pro Retina 13-inch assemblies typically costs $660 – $750. Original Macbook Pro Retina 15-inch LCD assemblies typically ranges from $750 – $850.
Shops that do replacements at $750 for a 13-inch and $850 for a 15-inch might be a ripoff, but any repair shop that offers an original brand new Apple Macbook Pro 13-inch LCD assembly at a price lower than $660 might be replacing a re-assembled OEM LCD assembly. The cover is probably not brand new but looks as good as new, and the inner LCD itself is an OEM part. That said, Apple Authorised Service Providers do replacements at around $1,000, so any shop that offers a lower price would already be a good deal in a sense.
2. Presence of LCD stickers, barcodes and protective plastic caps on LCD cable connector and WiFi antenna connectors
Original Apple Retina LCD assemblies may not come with such labels and plastic caps, but those that do have them, especially when all the mentioned parts are present, are most likely original.
3. Brightness Adjustment and Automatic Brightness Sensors
The brightness of OEM LCDs tend to be brighter than the original LCDs even at the lowest brightness setting. Brightness adjustments of original LCDs are very minute whereas for OEM LCDs, the brightness will suddenly change from very visible to totally dark, when the brightness is at the lowest visible setting. OEM LCDs may also not adjust the brightness of the LCD quickly even when the automatic brightness setting is set in the System Preferences>Displays>Automatically adjust brightness. One way to test whether a screen is original or not would be to cover the entire Facetime camera with your hand. The brightness of Original Apple LCDs will swiftly dim once the sensor right beside the Facetime camera is covered up.
We know of repair shops who do not tell their customers the LCDs they are replacing are OEM parts. In fact some shops only have OEM LCD inner replacement services or OEM LCD assemblies. Do be careful when choosing a LCD replacement for your Macbook Pro Retina.
Of course, we unabashedly will recommend you give us a try if you have a Macbook that needs a screen replacement.
https://www.macplus.sg/wp-content/uploads/2016/04/macplusweblogo.jpg
0
0
just1ed
https://www.macplus.sg/wp-content/uploads/2016/04/macplusweblogo.jpg
just1ed
2017-01-30 02:14:39
2017-03-08 02:43:54
The Truth Behind Macbook Pro Retina LCD Replacements